Your first peek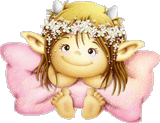 at baby Elana. She is a cutie and has dark hair....at least for now. Her older sister has blonde hair so we are wondering what color it will turn.
She is such a sweetie and I know her dad is going to hate leaving her , as he must return to Iraq to finish his tour of duty. We pray for his safe return.
As some of you know I posted a giveaway in honor of the new baby. ( see the Sat. August 14th post) I have decided to add a few more pages to the giveaway. They are from the album below. Great for doing scrapbooks of children. The sign up deadline is August 23rd so read the earlier post and sign up. Tell a friend who might be interested.

Take care and have a great day.